Jetpack Superheroes
|
Producing songs and writing on the fly
---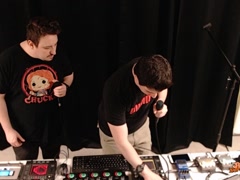 Taunton, MA.

United States of America
More About Jetpack Superheroes
---
The Jetpack Superheroes make stuff up live. (All sounds are made with our voices.)

We sing songs and use a looper.
Fun Stuff about the Artist
---
Life on the Street
Paul and I (Jon) were trying to market a gig and thought about playing acoustic versions of our songs near populated places in the city. We thought we were geniuses going to the local bus stop near the venue. We played about a song and a half and then a bus came. It was very loud and drowned us out. The people all left, and soon we were playing to nobody. A few minutes passed and we were playing to a packed bench and were standing room only. And then another bus came and drowned us out again and then took everyone that was listening. Moral of the story, Bus stations have a lot of people, but they also have a lot of buses, that are not good for sound quality or keeping people there long enough to strike up a conversation with about a show.
Embarrassing Moment
We played shows in Canada and I saw a sign that said "Bien Venue" and figured it meant Hello. So I greeted everyone all over the campground with the words "Bien Venue." Even in the men's room. While I was brushing my teeth I'd be polite and say "Bien Venue" thinking I was saying Hi. Turns out Bien Venue means "Welcome." I had been welcoming people to the men's room and to their own camp sites all week. I'm just glad I found out the second to last day we were there.
My Instrument
I play my guitar nightly. I'd like to play it daily but people at work don't like me doing my job while singing and playing guitar. Just kidding. I still own all of my old guitars except for the one I played that was my younger brother's. I found out that I could play it and pick notes out by ear and I fell in love. I ended up getting two guitars for Christmas that year and I've loved them both ever since.

I owe a lot to the guitar because it's been such a great way to make connections with people. I'm very fortunate to have not been into partying when I was young and not have the internet so that I'd stay home and practice performing and singing awkward songs that I now get to sing to all of you. Hopefully you enjoy one of them.

Since writing this, covid hit and I went a little stir crazy. I realized I loved to write songs and wanted to start writing songs faster. As fast as I could think them up. We now use only our voices some fx and an RC 505 loop station to make songs.
Rocker Pins
---
Standing Ovation Pin
4 Awards
"Bravo, Bravo!"
Last Awarded: