gerimayawhyte
|
Pop with a push
---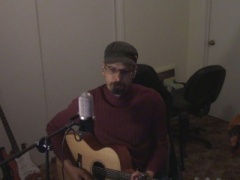 Three Rivers, Ca

United States of America
StreetJelly Stats
Member since:
Last show:
Fan favorites:
More About gerimayawhyte
---
I've been playing music since I got out of High School originally starting with guitar. I played in few band situations in my twenties but got more serious about playing out in the last twenty years. I've been playing solo acoustic shows and in a few bands pretty seriously for the past ten years. Playing everything from Bluegrass, Country, Classic Rock, to Pop in the band. Solo I try to do a little bit of everything: Alternative, Indie Folk, Folk, Pop, Rock, Soul, R & B, 80's and even some country.

I've been working towards adjusting my material to a live looping set which has been fun, challenging, and quite creative allowing for more denser arrangements. My taste are pretty diverse and I like to cater to an audience that likes varied material. If you have a request feel free to ask and I'll play it if I know it and if I don't I will definitely consider adding it to my repertoire.

Please help support musicians if you like what you hear!