dianezy
|
groovingTorontogal
---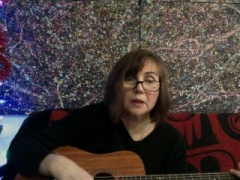 Toronto, Ontario

Canada
More About dianezy
---
My name is Diane Simone, born and raised in Toronto, Ontario. Music makes me feel connected to my heart. I sometimes feel stressed when I'm out and about in the city, but music makes me forget everything that worries me. I was told I have a gift, and I want to share it. I was a pro singer for a number of years, but gave it up for the nine-five- I am now getting back into it- and after many years as a vocalist, I learned the guitar and started writing. These songs that I write are inspired by my life and the people that I have encountered. I would also like to think that they are for anyone who takes the time to visit me and my music. I used to busk live in the St. Lawrence Market in Toronto until COVID hit and shut it down. Music helped me get out of some really dark times, and I now want to share my heart with you
Fun Stuff about the Artist
---
Life on the Street
I was singing if I had a million dollars at the Market and thought it was a two dollar bill but ended up being a fifty dollar bill shaped as an origami crane- so cool!!!!
Embarrassing Moment
When we had our blues band, our guitarist was doing his solo and literally fell off the stage. We teased him about that for a very long time LOL
Rocker Pins
---
Standing Ovation Pin
1 Award
"Bravo, Bravo!"
Last Awarded:
Jelly Jingle Pin
1 Award
Merry Christmas!
Last Awarded: