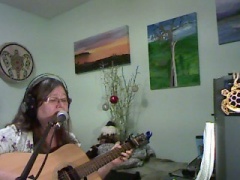 Vancouver Island

Canada
More About TereeTurtle
---
Nearly three years of sitting in the audience…i thought it would be fun to make my way to the other side of the stage.
My journey there began when i was encouraged to pick up a guitar again after 30 plus years of allowing life to get in the way. Thank you to those special people and to all the wonderful people I've come to know as friends on Street Jelly.that have been so supportive, kind, and helpful.

Im neither a guitar player nor singer but i do what i can to try and put them together and hope my audience will have a great time and maybe sing along. The main thing is to enjoy yourself..no matter what side of the stage you're on.
Fun Stuff about the Artist
---
Life on the Street
Turtles on the Street dont fare well.
Embarrassing Moment
Any time im on video will be embarrassing.. but i have a thick shell!
My Instrument
I play an acoustic Yamaha F310 with a Skyline Pickup.
I also have an electric 12 string Hagstrom Deluxe.
Rocker Pins
---
Standing Ovation Pin
31 Awards
"Bravo, Bravo!"
Last Awarded:
Love Song Pin
9 Awards
"You made my heart sing."
Last Awarded:
DJ Pin
3 Awards
"Thanks for playing my song."
Last Awarded:
Rock God Pin
10 Awards
"I bow to your Godliness."
Last Awarded:
Starving Artist Pin
1 Award
"Here kid, buy yourself something."
Last Awarded:
Jelly Jingle Pin
12 Awards
Merry Christmas!
Last Awarded: