ShortyHill - Electric guitar to feed the soul
"Shorty Hill Live From Costa Rica"
Turn on browser AutoPlay
Replay of Live Show
"Shorty Hill Live From Costa Rica"
Start time:
End time:
Duration: 134 minutes
Please tip the artist during this Replay. Your appreciation will be seen by the performer.
- Hide someone from your chat. Hold down CTRL key (COMMAND for Mac) and click Tip button for quick 1 token tip.
ShortyHill
|
Electric guitar to feed the soul
---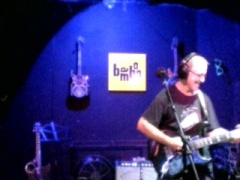 South Pacific Coast

Costa Rica
More About ShortyHill
---
My passion for electric guitar began when I watched The Beatles first performance on The Ed Sullivan Show. I've been performing in bands and as a solo artist ever since. My style cuts across many genres; it's lyrical, melodic and clean. The goal is not to impress with technical prowess, but to touch the soul. And yes, I sing, with a somewhat unique vocal style. I play some blues, some swing, some country, some rock....some of it classic, some of it fairly obscure, mixing in some of my originals as well as original of some good friends.
I currently play electric guitar in The G String Cowboys, entertaining locals, expats and tourists along Costa Ricas beautiful southern Pacific coast. Pura Vida!
Fun Stuff about the Artist
---
Embarrassing Moment
The time (many years ago, in a heavy rock band) when I broke 1, then 2, then 3 strings in the same song, got mad, and threw the guitar to the stage, snapping the neck. It was a '68 Gibson SG. A good lesson in anger management.
My Instrument
My favorite guitar these days is a heavily modified Strat (originally a Fender)....sweet, fluid, and always has something interesting to say!
Rocker Pins
---
Standing Ovation Pin
85 Awards
"Bravo, Bravo!"
Last Awarded:
Love Song Pin
7 Awards
"You made my heart sing."
Last Awarded:
DJ Pin
4 Awards
"Thanks for playing my song."
Last Awarded:
Rock God Pin
6 Awards
"I bow to your Godliness."
Last Awarded: