SharonYung
|
Live! Concert from My Living Room Series
---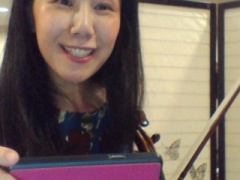 New york

United States of America
More About SharonYung
---
Native of Hong Kong, and currently based in Brooklyn, New York, Sharon has been playing the violin for over 35yrs. She received her earlier musical training at the Hong Kong Academy of Performing Arts. During her study at the Conservatory of Music at University of Cincinnati and in Brooklyn College, Sharon further her training under renowned teachers such as, Prof. Igor Ozim, Prof Kurt Sassmanshaus, Itzark Perlman, Maoso Kawasaki and Mela Tenenbaum.
Sharon has been teaching the violin for over 25 yrs, and has been an active performer in the greater New York area. She has been an active member of Music Under New York since 2018 and joined the Times Square Alliance in 2019.
Currently, Sharon performs on 'Live! Concert from My Living Room' series weekly on IG/FB and YouTube. She also presents an ongoing weekly segment 'My Take On',discussing her musical approach and technical elements on a given musical work. The 'Violin Studio with Sharon' is a new venture on her YouTube
Fun Stuff about the Artist
---
Life on the Street
While busking in NYC, an elderly man walked up to me after I perform a piece by Fritz Kriesler. He says,"I used to study the violin with Kreisler when I wss really young!" Yes, I did some research, and Kriesler did live in NYC after 1914!
Another time when I was busking in Penn station, NYC, a man was running to catch his train. Upon hearing de Falla,s Spanish dance, he stopped and yelled across,"by the way, Manuel de Falla was my great grand father!". Talking about wild moments!
Embarrassing Moment
I definitely have had embarrassing moments in the past, and will sure have more in the future as long as I'm a music performer! One experience was from when I was young, performing a Spanish dance by Manuel de Falla, a hair from the bow was loose and went to the fingerboard, my fingers tripped on the hair, the bow flew away from My bw hand...landed a few feet from me...the pianist stopped, everyone's waited for me to walk over to pick up the bow....where should I resume now..? Yike....that was once, never happened again!
My Instrument
Oh, when I first got my violin....its mine....I was elated! Every night I made sure my violin case was set right next to my bed by my pillow!
Rocker Pins
---
Standing Ovation Pin
28 Awards
"Bravo, Bravo!"
Last Awarded:
Love Song Pin
4 Awards
"You made my heart sing."
Last Awarded:
DJ Pin
2 Awards
"Thanks for playing my song."
Last Awarded:
Starving Artist Pin
1 Award
"Here kid, buy yourself something."
Last Awarded:
Stay-at-Home Jammer
3 Awards
"On my couch, saving the world."
Last Awarded: