Sean Christopher
|
Texas Singer/Songwriter/Guitarist
---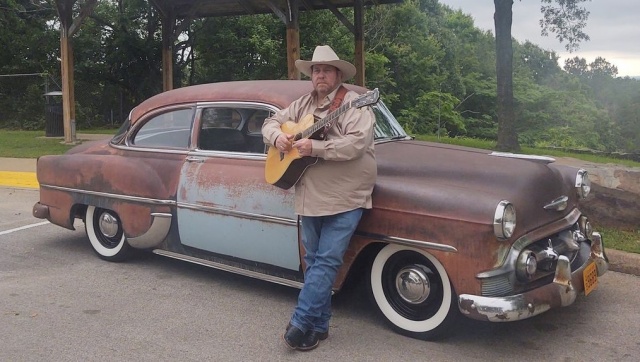 Jacksonville, Texas

United States of America
More About Sean Christopher
---
Singer/Songwriter/Guitarist from Jacksonville, Texas

I put the music on the back burner while our children were babies. Now that they are older I have returned to my passion of performing, creating and entertaining through music. I have the greatest gift in the world in that I get to write songs with my beautiful wife of 27 years. Because of her love and support I pursue this passion for music. She encourages me but at the same time keeps me grounded.

I love all types of music but I lean more toward writing & performing traditional country with a bit of southern rock thrown in here and there.

I always love meeting new people and hearing about their love of music.

"When the music is right and the crowd is into what you're doing, there is no drink or drug that can get you any higher."

Hope to see you down the road somewhere.
Thank You,
Sean Christopher
Fun Stuff about the Artist
---
Life on the Street
My wife used to go with me to most of my gigs. Once We were on our way to a gig about an hour away from home and we ran into some very bad storms. 50-60 mph straight line winds, heavy rain with some hail mixed in. I think she was re-thinking the whole I'm gonna support my husband thing about then, LOL

I perform local gigs here in East Texas most weekends but it's a breath of fresh air to get to perform on here where you're not for the most part just background noise.

Through my wife's encouragement I've started writing more seriously these past few months. In my opinion that is where it's at. That's when you find your true inner artist.
Embarrassing Moment
I entered a local singing competition one time and was gonna sing a song I had played a thousand times. Right before I was supposed to go on I was so nervous I couldn't remember how the song started. I turned to my wife and asked "How does Sing Me Back Home start?" She looked at me like I had two heads and said "You're s@#% me right!"

I was backing another local artist picking lead guitar. Our first song was a swing country type song which called for some very clean guitar. When it came time for my first solo I didn't realize I had turned my overdrive pedal on and had the drive all the way up. So when I lit into that Telecaster it sounded like something out of Metallica song and the guy hollered "Turn all damn dirt off!" LMAO!!
My Instrument
2012 Taylor GSce Fltd
2012 Am Std Fender Telecaster

If you held a gun to my head and said you have to sell every piece of gear you own except one, that one would be my Taylor. I bought it used off of craigslist. I rode my Harley when I went to look at it because I wasn't real sure I was gonna buy it. I did take some rope with me on the off chance that I did buy it. When I handed the guy the money he asked "How are you gonna get this thing home?" I said "I'm gonna tie it to this bike like it was one of my children." He helped me tie it to the bike and then the Taylor and I started the 30 mile trip back home. I had to stop one time cause she was slipping some in the ropes but we made it just fine. I have made a few upgrades to it. I took out the ES1 system when it crapped out on me at a gig and installed an LR Baggs Anthem pickup system and I also installed a better bone saddle and buffalo horn bridge pins.
Rocker Pins
---
Standing Ovation Pin
6 Awards
"Bravo, Bravo!"
Last Awarded: