Sean ONeill Songs
|
I sing because I love to.
---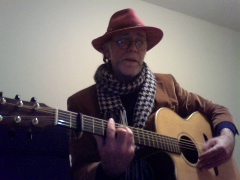 Roscommon

Ireland
More About Sean ONeill Songs
---
A late starter, I went singing on the street - in Galway - to get over a lifelong FEAR of singing outside of my bath and a few weeks later, wrote the first of the few hundred songs I now play most days - on the street but occasionally on the radio.

My first album went gold - one CD at a time (it's a long story) and I now have a couple more - all on iTunes and many other sites.

I love playing live though being in Ireland, it sometimes rains so I'm very happy to have found this site.

My strongpoint is my lyrics - no fancy guitar - just enough to carry the song - and I'm frequently described as 'QUIRKY'. Songs of life and love and lost love frequently with subtle humour.

Influences are numerous as I've been a music fan since I popped out of my mothers tummy but I'll name a few biggies:

Leonard Cohen, John Lee Hooker, John Prine, Guy Clarke and Donald Trump (kidding)

This is my rainy day project as I really do like to be out on the street,
Fun Stuff about the Artist
---
Life on the Street
Sean O'Neill Songs

I was tipped by an old man passing by and he stopped and listened to the end of the song. He said he liked my sound and asked me would I play a song - it was a song I really didn't like but didn't want to offend. I apologised and pointed out my sign, 'in my own words'
He said, 'So you make up the songs you sing?' I nodded. 'Well,' he said, 'That's about the cleverest thing I've heard. Genius!' then followed with, 'So know one will be able to tell if you're any good or not.' I nodded once more.
Embarrassing Moment
About a year after I began to sing, I met a musician friend on his way to play a gig in a nice venue. I hadn't seen him for a while and told him about the direction my life had taken and he invited me to open for him. My stage experience was a few open mic nights where I'd plug in to the house PA.

This venue was set up for serious sound and I felt a little nervous and decided to jump in the deep end and open a cappella with a song I'd written using Ain't No Sunshine as a template to the same melody though with guitar, had it's own tune - Apathetic Blues.
I came out and opened with the first line but, never having come across stage moniters before, was startled by my own voice coming back at me so loud and stopped in mid verse, apologised and went on to do the song with it's own tune and guitar.
My Instrument
My favourite guitar is an Avalon Legacy* and was actually a legacy as, when she died, my mother left me her car - a tiny Nissan. It was the typical old lady's car - perfectly tidy with a low mileage and a scuff on every corner. As I had a car that was more suitable for travelling in with my pretty big dog on board, it wasn't going to be of much use to me and watching it rust away wouldn't have been something I would have liked but I was reluctant to let it go.

After a couple of weeks, I decided the best thing to do was find a nice buyer and use the money to buy the best guitar I could with the money.

I also like my Martin Cowboy IV - especially for busking as I don't have to stop mid song when it rains (the body is PLASTIC and the neck, laminated).

I miss the Hofner I lent to a friend's brother - it was stolen from his house about 10 years ago and hasn't been seen since.

I don't give them names but my dog is Clara.

*Someone's Shining Star is a song about the guitar an
Rocker Pins
---
Standing Ovation Pin
4 Awards
"Bravo, Bravo!"
Last Awarded:
Love Song Pin
2 Awards
"You made my heart sing."
Last Awarded:
DJ Pin
1 Award
"Thanks for playing my song."
Last Awarded:
Rock God Pin
1 Award
"I bow to your Godliness."
Last Awarded:
Jelly Jingle Pin
2 Awards
Merry Christmas!
Last Awarded:
Stay-at-Home Jammer
1 Award
"On my couch, saving the world."
Last Awarded: