SHARON_GAY
|
STUDIO "LOFT 51"
---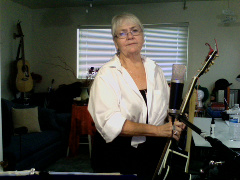 High Desert CA

United States of America
More About SHARON_GAY
---
Being born and raised in the Panhandle of Texas in the '50's, spending my teenage years in Palm Springs, California in the '60's and stepping into the Hippie movement in 1968 has given me a very interesting take on life. Even as a child I was a wanderer. Whether it was walking on the railroad tracks to school or on the sidewalks around my neighborhood. I found wonder in everything I saw. As an adult that has not changed. I find myself just looking, watching.

By the age of 11 I had memorized Hiawatha's Childhood by Henry Wadsworth Longfellow and written several poems. I excelled in Art, Music and English in school, but not much else. My favorite art project in High School was to draw what I believed my soul looked like.

With new technology, not unlike Grandma Moses, I find myself, once again, enchanted by the fact that the ghosts of the past have become the artists of the now.
Thank you for letting me into your world.

Sharon Gay Dickinson-Rogers
aka: SHARON-GAY
Fun Stuff about the Artist
---
Life on the Street
Panhandling in the late 60's, in San Francisco, I set up my space in the back of the Cannery.
A gentleman approached me one day and asked how I was dong "money wise" and I told him not good but was having fun. He said his name was ZERO and he threw a penny in my guitar case. From that moment on people were tossing coins and dollar bills. Who was this Zero? A spirit guide?
Embarrassing Moment
I don't think I have had any embarrassing moments as a musician. Guess I have a ways to go.
My Instrument
Here's the story. I had a guitar when I lived in the Mission District of San Francisco.
A young man we knew would borrow the guitar but always return it within a few days.
Once when I loaned it to him it became a full month before I decided to go over and ask for the guitar back. It seemed he was hocking it for money, retrieving it and then borrowing it back. Needless to say, this time I lost it.
I now own 4 guitars. An Epiphone with a Kalamazoo serial number. Her name is Stella. My Dean which is another story altogether which I call Rose and a Washburn 12 string my father gave to me. His name is Jake. And a newly acquired Sigma. I haven't decided on a name yet. Have to see the personality.
Update 2015...My Sigmas name is Hanna. She is an old spirit.
Rocker Pins
---
Standing Ovation Pin
60 Awards
"Bravo, Bravo!"
Last Awarded:
Love Song Pin
12 Awards
"You made my heart sing."
Last Awarded:
DJ Pin
5 Awards
"Thanks for playing my song."
Last Awarded:
Rock God Pin
2 Awards
"I bow to your Godliness."
Last Awarded:
Charity Pin
1 Award
"I love and support your charity."
Last Awarded:
Starving Artist Pin
1 Award
"Here kid, buy yourself something."
Last Awarded:
Jellypalooza 2015 Pin
1 Award
PEACE ☮ LOVE

♥

STREAMING
Last Awarded:
Stay-at-Home Jammer
3 Awards
"On my couch, saving the world."
Last Awarded: