Ric Landers
|
Monstagrass OTM New Wave Bluegrass
---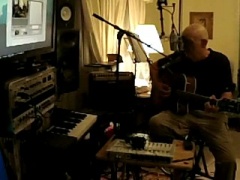 Wayzata, Minnesota

United States of America
More About Ric Landers
---
My name is Ric Landers and I play mandolin, and guitar and sing here but I also play bass and spent my early years as a Rock, Country, and Folk Rock drummer/vocalist. I've been playing drums & guitar most of my life but took up the mandolin around '05. I am a semi-retired Indy Music Publisher and Producer for my company; Your Place or Mine Digital. I specialize in ON LOCATION music production and dabble a bit in video production as well. My credits include the publisher and producer of a piece of music produced on location in the mountains of North Georgia for Dirt Road Delight. Written and sung by Daniel Lee Parkin PALM OF HIS HAND was heard by Director Debra Granik when in post-production for her 2010 multi-Oscar nominated film WINTER'S BONE starring Jennifer Lawrence. PALM OF HIS HAND was featured in the scrapbook scene. I've also acted in multiple episodes of ABC's drama series, NASHVILLE. Relocated to Minnesota a couple of years ago. Hope you enjoy my music. Thanks for listening!
Fun Stuff about the Artist
---
Life on the Street
I spent most of my road life as a Top 40 drummer playing lounges, bars, hotels and military bases. About four years ago I was living in North Georgia on Bobby Don Bloodworth's farm near Blueridge, GA. I would sometimes fill in as drummer with his Gopher Broke Band when the regular drummer couldn't make it. Gopher Broke was booked to play a fund raiser for the Blueridge Community Theater at one of the theater patron's homes up in the mountains. I loaded drums and drug along my mandolin just for grins. When we got to the outdoors gig there appeared to be a storm approaching so the client opted to have us set up the band on the lower level screened in porch and for me to play mandolin instead of drums. Yay; no drum setup first time ever. Later that evening I took a mandolin solo that drew applause from the crowd as I finished. I was totally shocked at the unexpected response - I'd never received an ovation for drums and was humbled by the recognition of my fledgling mandolin musicianship.
Embarrassing Moment
My most embarrassing moment had to be at the Iron Horse Grill in Copper Hill, Tennessee. Dirt Road Delight was playing the grill along with Bobby Don Bloodworth sitting in. They had me strap on the mandolin and sit in to play the closing tune of the night. I went through this big speech about faking the bagpipes part on the mandolin for the intro of Steve Earle's tune COPPERHEAD ROAD. I then played the fake bagpipe intro and struck into the downbeat of the song where the rest of the band joined in - the only problem was for some unfathomable reason I could not remember the first line of the song. I went into shock - I looked to my friends to see if anyone could spur my memory but none of them seemed to know the first line either. We immediately fell apart and stopped the performance. It was the last song and I blew it BIG TIME. I was depressed for weeks over that but I've never forgotten that first line again!
My Instrument
It never ceases to amaze me how many people have never been exposed to a mandolin in person even though the instrument is heard on all types of recorded music from Bluegrass to Jazz to Rock to Classical and on and on. The instrument is finally getting some national face time on some insurance commercials but I suspect many folks still don't realize that small guitar looking ax is a mandolin. My current mandolin is a Michael Kelly so I guess that's it's name. I originally went to a GC in Nashville to purchase an Epiphone MM50 and saw this instrument hanging on the wall with a $150 off sticker on it so I asked to play it as well. It had evidently fallen off the wall and been repaired in house, but even my untrained ears could tell the difference in the tone and feel and for only $25 more than I was planning for the MM50 I went for it, and am I glad I did. A real mandolin player told me it was one of the best MK's he's ever heard and that it has great tone. I love my MK!