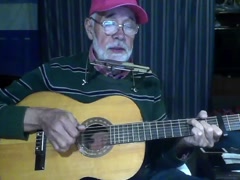 More About Milan
---
Fun Stuff about the Artist
---
Life on the Street
I decorate my guitars with floral motifs, and sometimes behind me are the paintings I sell. An elderly lady came up, picked up one of the guitars and said, "I like it, but I don't know what wall to hang it on."
Embarrassing Moment
Once, before a gig, and before cell phones, I was stung by a bee on my finger, and it was too late to cancel. I had barely played a couple of songs, when one story came to mind, then another... In the end, I concluded that it was not a gig but a class.
My Instrument
I keep old guitars and repair them. I love them as friends.
Rocker Pins
---
Standing Ovation Pin
29 Awards
"Bravo, Bravo!"
Last Awarded:
Love Song Pin
5 Awards
"You made my heart sing."
Last Awarded:
Jelly Jingle Pin
2 Awards
Merry Christmas!
Last Awarded:
Jellypalooza 2022 Pin
2 Awards
"Jellypalooza '22 - 10yrs"
Last Awarded: