Professor_Milan
|
Long Lost Friend
---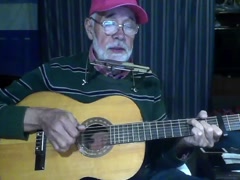 Banat

Serbia
More About Professor_Milan
---
After a professional career in education, I returned to my hobbies - music and painting. Playing from an early age, I welcomed my old days with the same love for songs. As a young man, I fell in love with the philosophy of freedom, brotherhood and understanding among people, as well as the songs that talk about it.
Fun Stuff about the Artist
---
Life on the Street
I decorate my guitars with floral motifs, and I have many. They are tuned differently, and they are all around me. And behind me are the paintings I sell. An elderly lady came up, picked up one of the guitars and said, "I like it, but I don't know what wall to hang it on."
Embarrassing Moment
I ate grapes once, and a bee stung my finger a few hours before the gig. Since I often entertain the audience with jokes and stories, I did not delay the performance. When I returned home, my wife asked me anxiously, "How many songs did you manage to play with that finger?" Two or three, I said, then I started a story, and it took me to the next one and so on through the whole gig. My wife told me that I should change the poster that says I perform music
My Instrument
I often paint flowers on my guitars because I love the hippie look, that time, the fashion and the love that was everywhere. I want to remember all that while I play and I would like to take you on a journey through time to the years of love and flowers. Join me and let's have fun with the old but unforgotten songs.
Rocker Pins
---
Standing Ovation Pin
28 Awards
"Bravo, Bravo!"
Last Awarded:
Love Song Pin
5 Awards
"You made my heart sing."
Last Awarded:
Jelly Jingle Pin
2 Awards
Merry Christmas!
Last Awarded:
Jellypalooza 2022 Pin
2 Awards
"Jellypalooza '22 - 10yrs"
Last Awarded: