MidWalesBusker
|
Traditional Tunes For The Masses
---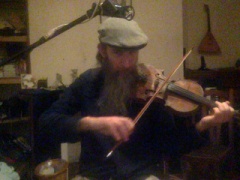 Sir Drefaldwyn

United Kingdom
More About MidWalesBusker
---
Mandolin player, whistle blower, fiddle wrestler, box squeezer

For the past 10 years, I have been busking on the streets of Mid Wales, Shropshire, sometimes further afield. My mission is to play my favourite tunes to the best of my ability, make people smile or skip as they walk by - and earn some honest cash doing what I love.

I got interested in traditional music aged 19, taking up mandolin and whistle. 11 years on, I was given a fiddle, which has since become my main instrument. A few years later, I added piano accordion to my arsenal. I play Irish Traditional Music, with the odd Welsh, Scottish, English, Quebecois, Appallachian, Swedish or Galician tune thrown in. I also play klezmer on the piano accordion.

Now, in early 2020, due to the current health crisis, street busking is not an option. This is why you find me here. I look forward to busking in the open air again. In the meantime, I hope I can bring a little joy into your lives through the wonders of technology.
Fun Stuff about the Artist
---
My Instrument
I would like to thank:
The old Waldemar upright piano in the house where I grew up for providing my first forays into playing music, before I could reach the pedals.

A 2nd-hand Generation C whistle, bought in a car boot sale, complete with child's teeth marks.

My Hofner Congress guitar, bought for my 17th birthday, which helped bridge the gap between 60s-70s rock and folk music.

The mandolin brought home one day by my mum, after buying it in a charity shop with the intention of learning to play it herself. A couple of years later, I appropriated it (as children do with their parents possessions) and learned to play it. Some years later, I enrolled on an instrument making course and built my own, the one I now play.

My fiddle, given to me in a spontaneous act of generosity by a friend at an Irish session in London in 2004. I resolved that night to pursue the fiddle in earnest.

My trusty Hohner 96-bass piano accordion, which does (nearly) everything I need it to do.
Rocker Pins
---
Standing Ovation Pin
9 Awards
"Bravo, Bravo!"
Last Awarded:
Stay-at-Home Jammer
2 Awards
"On my couch, saving the world."
Last Awarded: