MichaelIrger
|
Organic music out of the tube
---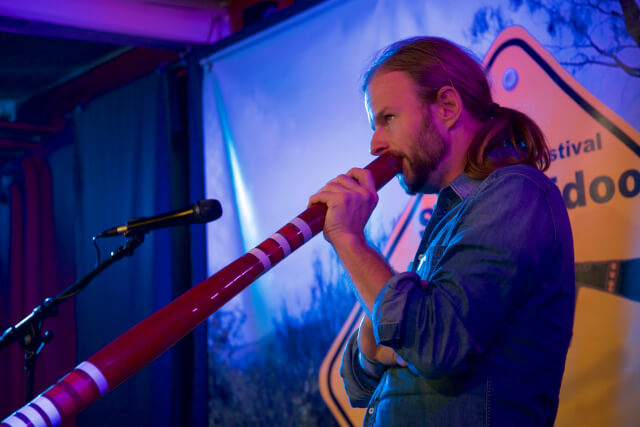 Linz

Austria
More About MichaelIrger
---
Michael Irger plays the didgeridoo in a very distinct, variant and rhythmic way. He extends the possibilities of classical playing the drone by performing melodic and agile rhythmic patterns giving the impression of a complete orchestra. Accompanied by drums and a self biult sophisticated set of percussion and electronics, he creates an unique groovy atmosphere for dancing, singing and relaxing. Inspired by all genres of modern music Michael continues to experiment with other modern and traditional music instruments around the world. The didgeridoo has been the main instrument of choise for many years wowing international audiences. Michael gives beginner and intermediate didgeridoo workshops to share his passion with people who want to start to play and enthusiasts, who want to learn more on this wonderful instrument.

FOLLOW THIS LINK TO GIVE ME AN APPRECIATION OF MY MUSIC:
https://www.michael-irger.at/busking
Fun Stuff about the Artist
---
Life on the Street
The moment when children and women begin to dance and policemen want to stop my show.

The face of the policemen then when they like my playing but they have to stop me because of no busking-permit.

As they disappear, I'm thinking F*CK IT and I continue to play for hours on the other side of the street! ;:D

And then, the crowd gets filled and the fun begins.
Embarrassing Moment
I literally forgot on one show, that I have to play. A college of mine had to play instead of me.
I had a moment where I almost had to pay punishment for another busker, but all went good!
My Instrument
Didgeridoo. I made my own thing about it.

It can be scaled from low A to high G, depending on music, manner and mood.