LydiaHammond
|
guitar/ harp/ vocals
---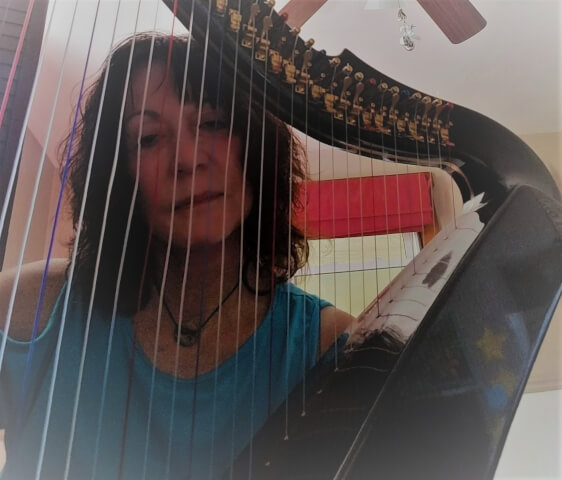 Pennsylvania

United States of America
More About LydiaHammond
---
I have eclectic musical tastes and feel influenced by everything I listen to.
I enjoy singing and playing the harp for any/all occasions. I have had additional training in harp therapy and music in the clinical setting.

I am now learning to play guitar and love love this !!
@http://www.adultstartersguitar.com
I have had a guitar for years that I would pick up and put down, pick up and put down...for 10 years and could not get past the sore fingers or one chord. I now have a teacher who immediately got me on the right strings and talked me "off the ledge" of the newbie willies!! Wow, what a difference !! T.Y http://www.adultstartersguitar.com !
Fun Stuff about the Artist
---
My Instrument
My instrument is a 38 string Carbon Fiber harp made by Heartland Harps.
It weighs less than 10 pounds , makes getting around a lot smoother.

I have a Washburn Acoustic /Squier by Fender Bullet Strat.and a NJS firebird semi hollowbody Love each one for different reasons.
Scheduled Performances
---
Catch this artist perform at the listed times
Click on the
icon to add to your Outlook or *.ics compatible calendar.
"Comfort and Joy- 30 minutes of Christmas harp"
Rocker Pins
---
Standing Ovation Pin
4 Awards
"Bravo, Bravo!"
Last Awarded:
Love Song Pin
1 Award
"You made my heart sing."
Last Awarded:
Rock God Pin
1 Award
"I bow to your Godliness."
Last Awarded: