Live in Hong Kong
|
Kick Butt Jazz, Blues & Rock' n' Roll!
---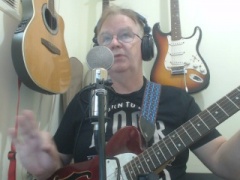 Hong Kong

Hong Kong
More About Live in Hong Kong
---
Come and join me live in Hong Kong, the Pearl of the Orient! Relax to some Rock n' Roll, Blues and Jazz. I've got a tune with your name on it! I'm basically a Renaissance Man living in Asia.
Fun Stuff about the Artist
---
Life on the Street
Back in the early 1980's I played and sang in the London Underground. I also played in some pretty wild pubs in London. There's always a great crowd at my shows in Hong Kong.
Embarrassing Moment
They happen all the time.

The low point was getting kicked out of a band for getting too much work. That sucked big time!

Music venues in Hong Kong are fun:-) I regularly play at a great venue called the Wanch which is (unsurprisingly) in Wanchai.
My Instrument
I have several RJ Guitars that are made in the Philippines. I have a copy of an Ovation electric Acoustic, a Fender Telecaster (Hollow Body). You can see them hanging on my wall.

I like to play through a Voice Live 3 Extreme. I'm connecting to the PC for Street Jelly through a Zoom UA2 USB3 interface. My backing tracks are from Band In a Box 2019.
Rocker Pins
---
Standing Ovation Pin
7 Awards
"Bravo, Bravo!"
Last Awarded:
Love Song Pin
3 Awards
"You made my heart sing."
Last Awarded:
Rock God Pin
4 Awards
"I bow to your Godliness."
Last Awarded:
Fan Appreciation Pin
2 Awards
"Your fans adore you."
Last Awarded: