Jungle
|
Wishing you all the very best... :)
---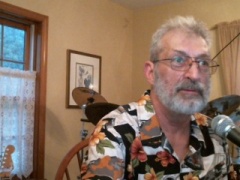 Massachusetts (Almost in the Atlantic Ocean)

United States of America
More About Jungle
---
I've spent many wonderful hours listening to the many performers here... :) Also, I've gotten to meet (virtually of course), many wonderful people. And for that, I'm left with some memories that will never be forgotten until dementia sets in... lol.... I also don't care, life is about having fun..... I enjoy listening to music, and I try to mimic (to a given degree) that same noise on guitar.

I greatly appreciate the support and encouragement from the SJ Family, both the listeners AND performers! That encouragement is helping me to pursue getting better.
Fun Stuff about the Artist
---
Life on the Street
Never played on the street, they have a law where I live about being a public nuisance! I have gotten some strange looks from customers in the grocery stores as I sing along to the store's music!!!
Embarrassing Moment
I was given a chance to play at a benefit to support music in our local school system. I was switching guitars from electric to acoustic, and I hit the wrong button on my amp. I was trying to hit the tune key to disable the amp while I switched guitars. Bottom line, the pre-amp in the acoustic didn't like it and I filled the hall with a great feedback. Hendrix would've been proud...lol
My Instrument
I've got a few guitars. One is never enough!!!! No names for them, but I wish I still had my 67 Jazzmaster or my old original Hofner bass. I sold them both for $75.00..... Currently using my Taylor acoustic for these shows, although the strat made one appearance...
Scheduled Performances
---
Catch this artist perform at the listed times
Click on the
icon to add to your Outlook or *.ics compatible calendar.
"For No Special Reason At All"
"3 years and still haven't been kicked off!"
Rocker Pins
---
Standing Ovation Pin
109 Awards
"Bravo, Bravo!"
Last Awarded:
Love Song Pin
5 Awards
"You made my heart sing."
Last Awarded:
DJ Pin
12 Awards
"Thanks for playing my song."
Last Awarded:
Rock God Pin
3 Awards
"I bow to your Godliness."
Last Awarded:
Wedding Singer Pin
1 Award
"You made this party not suck."
Last Awarded:
Jelly Jingle Pin
3 Awards
Merry Christmas!
Last Awarded:
Stay-at-Home Jammer
1 Award
"On my couch, saving the world."
Last Awarded:
Music Goddess Pin
1 Award
"Gratitude, Your Highness."
Last Awarded:
Jellypalooza 2022 Pin
3 Awards
"Jellypalooza '22 - 10yrs"
Last Awarded: