Jim_Dunleavy
|
Traditional Fiddle and Flute
---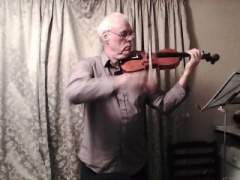 North East

United Kingdom
More About Jim_Dunleavy
---
Music's been an important part of my life for a long time. I learnt piano as a child, then flute in my thirties and now (a glutton for punishment) I'm learning fiddle in my retirement years. Still getting there on fiddle, but I can knock out a tune OK!

This channel will be almost exclusively about the fiddle, though; mainly Irish Folk Fiddle.
Fun Stuff about the Artist
---
Life on the Street
I've played many times as part of a large group (bands, orchestras) but very rarely as a solo performer, so it's worth watching because anything could happen when I perform live!
Embarrassing Moment
Still to come - watch this space!
My Instrument
I own a cheap Chinese fiddle bought for my wife in the 80s. She didn't stick with it and it gathered dust in the loft for the next 30 odd years!

Now revived with new strings, new bridge, adjusted soundpost and a carbon fibre bow its got a new life again!

The only names I call it can't be disclosed on this family-friendly site.
Rocker Pins
---
Standing Ovation Pin
1 Award
"Bravo, Bravo!"
Last Awarded:
Love Song Pin
1 Award
"You made my heart sing."
Last Awarded: