JeffreyAbby
|
Adult Contemporary Singer-Songwriter
---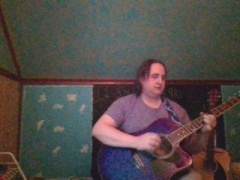 Raymond NH

United States of America
StreetJelly Stats
Member since:
Last show:
Fan favorites:
More About JeffreyAbby
---
Jeffrey Clark is a guitarist/bassist/mandolin player born and raised in the metro-Boston area. He became serious about performing and improvising while attending Berklee College Of Music, participating regularly in jam sessions, guitar, songwriting, and theory workshops, and an occasional gig with a cover band. Jeffrey Clark began playing bands such as Metallica, and Megadeth as a teenager, leading to an interest in progressive bands such as Dream Theater and Symphony X, and Improvisational genres such as jazz, funk, and fusion. He has now fallen in love with indie, folk, and solo acoustic music of many genres. He is currently writing and performing Solo Instrumental and Singer/songwriter based music. Love Kaki King and Vienna Teng.
Fun Stuff about the Artist
---
Life on the Street
Played outside of Fenway Park with a friend of mine once... wasn't that wild... only made one dollar....
Embarrassing Moment
When I was 17 I played on stage in front of my summer camp. As part of my guitar solo I finished with playing my guitar emulate orgasm sounds... It seemed cool and funny at the time. I also made a short film at the same summer camp where I walked around with my Jackson flying V and mini amp and asked anyone I could find if they would have sex with me if I played them a guitar solo. There was no sex expected for real of course, but I thought I was being hilarious at the time. And It was the first thing I was widely recognized for musically.
My Instrument
When I was a teenager I saved up for a long time to get a gibson flying v 67 reissue. Less than a year later I ended up selling it to afford a custom carvin guitar. I've always regretted it.