JD_Madrid
|
Live, 4/18 4 & 6pm MST
---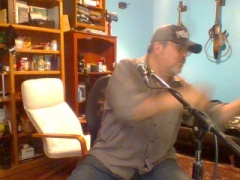 Phoenix, Arizona

United States of America
More About JD_Madrid
---
Hi! My name is JD Madrid. I hail from Colorado Springs, CO, and I come from a very musical family. I absorbed all kinds of music, from bluegrass, Mexican, classic country, blues, The Beatles, motown, folk rock, hard rock, alternative.
I love it all.
I currently reside in Phoenix, Arizona.
Feel free to request a song when I am broadcasting on street jelly.
Fun Stuff about the Artist
---
Life on the Street
Many years ago I was playing on the street in Tempe, Arizona on Mill Avenue, when some guy reached into my guitar case and grabbed a handful of money and took off. I quickly put down my guitar and chased after him yelling at him that he stole my money and he better give it back. He stopped, turned around and spit at me! (It was obvious he was mentally diturbed). Just as 2 police officers on bicycles pulled up. They said they saw what happened, and asked if I wanted to press charges. I said no, and told him he was very lucky he didnt get an ass-whoopin'. A very strange experience, indeed. I hope nothing like that ever happens again. So far so good! :)
Embarrassing Moment
I was playing a large show with a band in front of roughly 1000 people. The show was called, "Rock Me Gently", a tribute to 70's singer-songwriters. I had forgotten to put a capo on a particular song that required it and when the bank kicked in I was in the wrong key! I fumbled around trying play the chords in the correct key without the capo, but I was just too flustered to do it properly. It was quickly becoming a total train wreck. So I stopped the song, put on the capo and explained to the audience what had just happened. "This is live music, folks!". There was some laughter and even a bit of applause, but we started the song over and continued the show. But WOW! that was embarrassing! 😆
Rocker Pins
---
Standing Ovation Pin
6 Awards
"Bravo, Bravo!"
Last Awarded:
Love Song Pin
1 Award
"You made my heart sing."
Last Awarded:
DJ Pin
1 Award
"Thanks for playing my song."
Last Awarded:
Rock God Pin
2 Awards
"I bow to your Godliness."
Last Awarded:
Stay-at-Home Jammer
1 Award
"On my couch, saving the world."
Last Awarded: