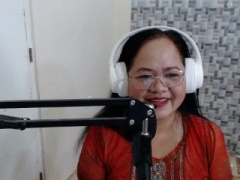 Philippines
More About EmilyDacion
---
Just love to sing! Music has always been a part of my life. I started joining the church choir at age 8 and become a church organist at age 14. Although I didn't pursue a singing career, I have performed in some social events.

I used to be a TV and movie talent in my country which helped me somehow feel comfortable when in front of camera, I used to be camera-shy lol.

At present, I am a content creator on YOUTUBE, I sing during my Livestream but my popular videos are mostly cooking, my second passion. Here's the link: https://www.youtube.com/@EmilyandSonTravelFood

I love meeting new friends. In my short stay here, I have already met wonderful people and amazing talents. Thank you for dropping by to check my page,
Fun Stuff about the Artist
---
My Instrument
Vintage Steiner Upright Piano, had this since I was very young. My father knows how to maintain it so still working fine.
Yamaha & Casio Portable Keyboards.
Scheduled Performances
---
Catch this artist perform at the listed times
Click on the
icon to add to your Outlook or *.ics compatible calendar.
Rocker Pins
---
Standing Ovation Pin
2 Awards
"Bravo, Bravo!"
Last Awarded:
Jelly Jingle Pin
1 Award
Merry Christmas!
Last Awarded: