Chance Michaels: Too Country & Proud of It
|
Country Music From The Heart
---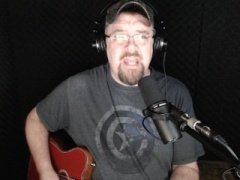 United States of America
More About Chance Michaels: Too Country & Proud of It
---
I have been a performing Country Music Entertainer for over 30 years. I'll perform some of my favorite covers and/originals for you! Please sit back and let me take you through some of them!

If you like country music from George, Merle, Keith Whitley and more...You've come to the right place ya'll!

I'm new to streaming..so please bear with me! ;)

Chance
Fun Stuff about the Artist
---
Life on the Street
During Country FanFest one year a girl came up to me and my mother and showed us her new "Chance" tattoo she had just gotten. She proceeded to turn around, pull her shorts down and show my mother my name on her left "cheek"!

AWKWARD!

Luckily for me, my mother looked at me and said "wow…her boyfriend is named Chance too!"

I said "yep! What a coincidence, Mom huh?"
Embarrassing Moment
I was booked to play a major venue during the National Finals Rodeo in Las Vegas with my band Dixie Flyer. I was running late on opening night. I grabbed a taxi to take me from my hotel to the venue. When I got there i ran down the backstage hall and up on stage in the dark just before show time. Seconds later, the curtain rose and the lights hit the stage. The band started playing an unfamiliar opening song…I turned to find that I was not only in the wrong hotel showroom but it wasn't even my band! That band seemed a little shocked to see me too!!

Embarassing!!! Somebody slap me!!!
Scheduled Performances
---
Catch this artist perform at the listed times
Click on the
icon to add to your Outlook or *.ics compatible calendar.
"Jukebox Junkie Thursday with Chance!"
Rocker Pins
---
Standing Ovation Pin
5 Awards
"Bravo, Bravo!"
Last Awarded:
Love Song Pin
2 Awards
"You made my heart sing."
Last Awarded:
DJ Pin
1 Award
"Thanks for playing my song."
Last Awarded:
Jelly Jingle Pin
2 Awards
Merry Christmas!
Last Awarded: