BilliePreston
|
Folk Therapy
---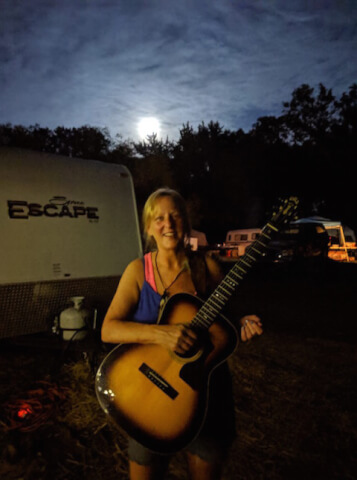 Wichita, KS

United States of America
More About BilliePreston
---
Two events happened when I was seven years old which shaped my life, completely.... My sister Lynn taught me how to play fingerstyle guitar, and I joined church choir. My life has been unending growth and branching out in these two areas. I sing. I play guitar. I sing in choir, still. I'm a cantor at the cathedral here in town.(although I'm not catholic) I conduct. I teach voice, piano, guitar, and ukulele. All I do is music. OK. I do other things, like eat and sleep, and garden. But mostly, it's music.
My name is luck of the draw. My dad's name is William. My mother's middle name is Preston. So I got the name Billie Preston. I'm thinking Billie Preston will be my stage name now and forever.
I'm not usually a solo performer. I can sing and play by myself, and have... but I much prefer singing/playing with others, and acoustically, with my close friend Robin Roberts. We have released two CDs, and we're on here as /robinbillie
Fun Stuff about the Artist
---
My Instrument
Long, long ago, when I was 16-ish, a friend/mentor of mine helped me pick out my first steel-string guitar. We went to a local guitar shop, and I bought an Epiphone. But while we were looking, I saw my first Guild guitar. It was beautiful. And when I played it, the sound filled the store. But it was very expensive, to me in my world.

Since that day, I've wanted a Guild guitar. And a few years ago, I got one. I love it every time I pick it up. Playing it is a dream.
Rocker Pins
---
Standing Ovation Pin
232 Awards
"Bravo, Bravo!"
Last Awarded:
Love Song Pin
152 Awards
"You made my heart sing."
Last Awarded:
DJ Pin
3 Awards
"Thanks for playing my song."
Last Awarded:
Rock God Pin
8 Awards
"I bow to your Godliness."
Last Awarded:
Charity Pin
2 Awards
"I love and support your charity."
Last Awarded:
Jelly Jingle Pin
12 Awards
Merry Christmas!
Last Awarded:
Jellypalooza 2016 Pin
3 Awards
PEACE ☮ LOVE

♥

STREAMING
Last Awarded:
Jellypalooza 2017 Pin
1 Award
PEACE ☮ LOVE

♥

STREAMING
Last Awarded:
Fan Appreciation Pin
2 Awards
"Your fans adore you."
Last Awarded:
Stay-at-Home Jammer
4 Awards
"On my couch, saving the world."
Last Awarded: