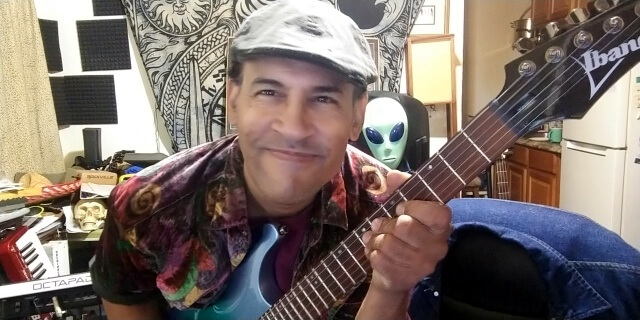 Schenectady, NY

United States of America
More About 3piece-me
---
I have been rocking on guitar since 1980 and bass since 1986. (As John P. Serrao)
"Cyborg Johnny" is a term/name I use to describe that my backing tracks are made up of bass and drums and synth parts. Someone once told me I need my own backing 3-piece to showcase my material. So; "3-Piece Me" I called it for this site.
Now I have a Roland SPD-30, Yamaha DTX, and a righteous Roland KD-7 kick pedal set up for electronic drumming. I play on that in practice along with my favorite tunes on Spotify....but I'm a guitarist, who plays bass as well. (Instrument list below.)
Who wants to come over & jam?
Fun Stuff about the Artist
---
Life on the Street
Busking on the street, or here online, is tricky with sequenced tracks. I first started doing it in 2001 and it's still a high-pressure deal to get the parts right on the fly. Have to be rehearsed and tight like...in the band. Hmm...
Embarrassing Moment
One time I couldn't get power to my drum set (electronic). I had to do the whole set just me and electric guitar, (Which is cool, but) I couldn't showcase the electronica I had so meticulously spent several minutes to set up. It was an open mic and free show. I was cursing the fact that I couldn't set things up in private and sound check before hand! Big stage; REAL band? Please God, SOMEDAY!
My Instrument
Cort - Hiram Bullock's signature
2 Ibanez S-Series; (black; 3 pick-ups / blue; 2 pick-ups)
Epiphone SG (21frets)
Charvel Desolator (active)
Fernandez (Fender Strat-style)
Stagg SG style (22 frets)

Amps:
The Vox 12" cabinet I run my Rage258 through, Fender Rumbler 25, Roland Micro Cube

Basses:
Fender Squire Jazz,
Washburn G-200,
Devlin "Funk Master" (half-wound strings / plays like butter!)
Rocker Pins
---
Jellypalooza 2015 Pin
1 Award
PEACE ☮ LOVE

♥

STREAMING
Last Awarded: