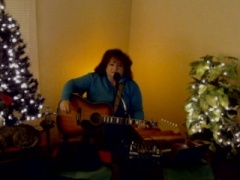 United States of America
More About Cheryl
---
Musical Entertainer - Rock, Pop, Country
Cheryl - Live Saturday "September 12, 2020" 9 pm eastern

I hope you will be entertained and inspired. It is only then I am fulfilled as an artist. It is an honor to be a part of this wonderful community. I have met many life- long friends over the years. Tipping is not required, but positive energy is priceless!

My grandfather sent me home with my grandmother's "Kay" guitar when I was seven years old, just days after she passed away. That guitar started the course of my life which rescued me as a child, and gave me a purpose and a dream. All of which came true, and for that I am grateful. Now as a senior adult I only play a few venues, events, festivals. I also volunteer my music to bring joy to patients in rehab hospitals, and senior centers.


Thank you for stopping by!
Cheryl (aka 2_cats)

(schedule updated 8-3-20)
Fun Stuff about the Artist
---
My Instrument
Main guitar - Fender Kingman (extra light strings)

Recording my own backing tracks is part of the creation process, which I have enjoyed since I was a kid on my old "reel to reel" tape recorders singing harmony and playing various instruments by ear.. If anyone is interested, my recording specs are below. (I'm not an expert recording technician but I have fun)

Zoom R24 multitrack stand alone recorder
Yamaha PSR s900 workstation
Piano, drums, elec bass, steel guitar, horns, flute etc.
Other acoustic instruments mic'd, banjo,mandolin, acoustic guitar, harmony parts, cymbals and drum hits.

Mixcraft 8 daw ( I occasionally customize drum and bass midi files, then play the other parts by ear.
Scheduled Performances
---
Catch this artist perform at the listed times
Click on the
icon to add to your Outlook or *.ics compatible calendar.
Rocker Pins
---
Standing Ovation Pin
114 Awards
"Bravo, Bravo!"
Last Awarded:
Love Song Pin
15 Awards
"You made my heart sing."
Last Awarded:
DJ Pin
7 Awards
"Thanks for playing my song."
Last Awarded:
Rock God Pin
10 Awards
"I bow to your Godliness."
Last Awarded:
Charity Pin
1 Award
"I love and support your charity."
Last Awarded:
Starving Artist Pin
2 Awards
"Here kid, buy yourself something."
Last Awarded:
Jelly Jingle Pin
6 Awards
Merry Christmas!
Last Awarded:
Jellypalooza 2017 Pin
7 Awards
PEACE ☮ LOVE

♥

STREAMING
Last Awarded:
Stay-at-Home Jammer
1 Award
"On my couch, saving the world."
Last Awarded: