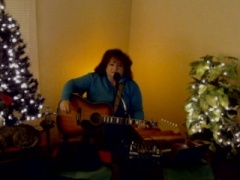 United States of America
More About 2 Cats
---
Cheryl - Live Saturday October 12, 2019 9 pm EDT
Musical Entertainer - Rock, Pop, Country

I hope you will be entertained and inspired. It is only then I am fulfilled as an artist.
It is an honor to be a part of this wonderful community. I have met many life long friends over the years.

Tipping is not required, but positive energy is priceless!

Thank you for stopping by,
Cheryl
Fun Stuff about the Artist
---
My Instrument
Technical info :
Fender Kingman acoustic electric (extra light strings)
Alesis Multimix 8 (aux out, pc line in)
CAD Condenser Mic

OBS Studio Broadcasting Software
Cameras :
Canon DSLR with 24mm lens, F2.8
Elgato Cam Link capture card (hdmi to usb)
Logitech Pro c922 webcam

Recording my own backing tracks is part of the creation process, which I have enjoyed since I was a kid on my old "reel to reel" tape recorder given to me by my grandfather... singing harmony and playing various instruments by ear.. If anyone is interested, my recording specs are below. (I'm not an expert recording engineer but I have fun)

Zoom R24 24 track recorder
Keyboard Yamaha PSR s900
workstation for drums Piano, drums, elec bass, steel guitar, horns, etc.
Other instruments mic's d, banjo, acoustic guitar, harmony parts, cymbals and drum hits.

I use Mixcraft 8 daw when I occasionally use drum and bass midi files, then play the other parts by ear.
Scheduled Performances
---
Catch this artist perform at the listed times
Click on the
icon to add to your Outlook or *.ics compatible calendar.
Rocker Pins
---
Standing Ovation Pin
81 Awards
"Bravo, Bravo!"
Last Awarded:
Love Song Pin
13 Awards
"You made my heart sing."
Last Awarded:
DJ Pin
4 Awards
"Thanks for playing my song."
Last Awarded:
Rock God Pin
10 Awards
"I bow to your Godliness."
Last Awarded:
Charity Pin
1 Award
"I love and support your charity."
Last Awarded:
Starving Artist Pin
1 Award
"Here kid, buy yourself something."
Last Awarded:
Jelly Jingle Pin
3 Awards
Merry Christmas!
Last Awarded:
Jellypalooza 2017 Pin
7 Awards
PEACE ☮ LOVE

♥

STREAMING
Last Awarded: