wedowee99
|
wedowee99 just singing again lol
---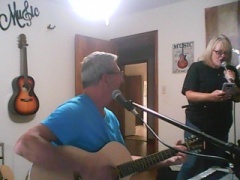 Anniston, AL

United States of America
More About wedowee99
---
I've had a love for music since a very young age. I started out playing drums at church when I was twelve,, then came the gtar and then some piano because Ray Charles songs don't seem right on drums or gtars lol.

As far as picking my favorite musicians that I enjoy playing it would probably be James Taylor, Keith Whitley, Merle, Hank Sr., Travis Tritt, Alan Jackson, Brooks and Dunn, ok nevermind...I have too many lol.
Fun Stuff about the Artist
---
Life on the Street
Only crazy thing I can remember singing at gigs would be when I sang at a big ole picking house deep deep in rural Alabama....I had been invited several times to go to this place and sing so one night I decided what the heck. .....when I finally found the dirt road to turn on it kept going farther and farther back into the woods. I started to turn around until then I saw all these cars and a big big barn looking building with lights strung up like Christmas time. I went in with my gtar in hand,,,,first is saw this big stage and lots of my picker friends waving for me to come on up. ...so they all took turns singing and then it was my turn. I stepped up to the microphone and started doing an old Vern Gosdin song. Well I been the grand ole opry when I was probably five years old..i remember they clap in middle of songs. Well they started clapping in middle of this song....skeered me to death at first....lol they were great folks!
Embarrassing Moment
Most Embarrassing moment had to be when a couple was dancing to one of my slow songs and they had maybe one or two too many ....lol.

They kept leaning, leaning...then they went down and took my microphone and stand with them ......I just kept on singing lol
My Instrument
my dad bought me a little play gtar when I was probably five and I wish I had kept it but who would have known I would fall so much in love with music at that age.

I lost my dad last May 5th 2017 but I know every song I sing he hears lound and clear in heaven....
Rocker Pins
---
Standing Ovation Pin
2 Awards
"Bravo, Bravo!"
Last Awarded:
Love Song Pin
1 Award
"You made my heart sing."
Last Awarded:
Rock God Pin
1 Award
"I bow to your Godliness."
Last Awarded: