Annabelle Bertrand
|
Beginner adult violinist
---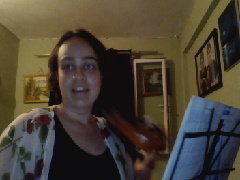 Germany
More About Annabelle Bertrand
---
Classical music and rock music are two of my absolute favourite genres to listen to. I also listen to many other genres though. I had a passion for Classical music ever since my dad bought a CD of Brahms for me when I was around 10. Rock music came more with me playing November rain by Guns'n'Roses on repeat on my old stereo.
Fun Stuff about the Artist
---
My Instrument
I have 2 violins. An accoustic one and an electric one. Both I love for different reasons. My accoustic one is called Issaiah. Don't ask me why, I don't know why!
Rocker Pins
---
Standing Ovation Pin
1 Award
"Bravo, Bravo!"
Last Awarded:
Love Song Pin
1 Award
"You made my heart sing."
Last Awarded: