thomasohare
|
Live looping ~ jammin' till impact
---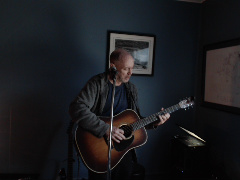 Canada
More About thomasohare
---
Thomas O'Hare has been playing drums, guitar, and piano for more years than he can remember. He began drumming along with stacks of vinyl from The Who and The Rolling Stones, picked up guitar when he went to University (since drum kits were not allowed in the dorm), and later disappeared inside a piano and stayed there for a long time.

As a young adult, Thomas moved around a lot, so he has played many places: from East Lansing, Michigan, to Tuscon, Arizona, to Eugene, Oregon, to St. Augustine, Florida, to Culiacan, Mexico, to Montreal, Quebec, to Ausable Forks, New York.

Thomas has also explored many musical styles: 70's folk-rock, classic rock, rather meditative piano, stride and boogie-woogie and blues piano, jazz standards, and even techno and trance. Oh, and a few classical pieces as well. No singular category adequately labels his range, and his style might change completely from one song to the next.
Fun Stuff about the Artist
---
My Instrument
I played percussion from 3rd grade till my freshman year in college. Then I needed to get a guitar. My parents got me a starter guitar for Christmas, but by June I wanted a high-quality instrument. So, I spent many hours at Elderly Instruments in East Lansing, Michigan, trying out dozens of guitars. None held my interest until I asked about the 5 guitars kept safe behind the counter. As soon as I heard the Martin with the sunburst finish, I knew that was one.

I couldn't play much at the time, so I got the sales guy to play it. I was hooked. The 1976 Martin D-28 was technically "used" and so deeply discounted (someone had bought it new from that store 6 months before and returned it after a few months, with the warranty card still in the case). Even so, it was a bit more than twice my budget. I gave them all the money I had, and made the four-hour round trip the following weekend to bring them the rest. Two weeks salary. $500. 40 years later, still my favorite acoustic ev