moedecker
|
Life is too short for boring music
---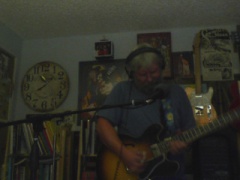 Reno,NV

United States of America
StreetJelly Stats
Member since:
Last show:
Fan favorites:
More About moedecker
---
Have been a soloist and band leader doing the rockin' nightclub scene. Well I've seen the scene and now I play from home in a comfortable atmosphere. I figured since everyone's always on their phone I might as well play to those people because that's what they do at the gig anyway. Well that's about it, American Music!
Fun Stuff about the Artist
---
Life on the Street
I've played in places so small that while I was performing I had to pass the salt for the couple at the table closest to the stage.
Embarrassing Moment
Embarrassing? Can't be done.
My Instrument
73 sg tuned for slide