marty_lynch
|
A Canuck getting some sun down south
---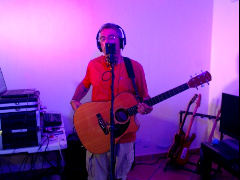 Bucerias, Mexico

Mexico
More About marty_lynch
---
As far back as I can remember, Music has always been in our family. The youngest of four brothers, there has always been music in our home. It was what I gravitated to and it is now such a part of who I am and how I live. Through good times and bad, playing guitar has given me peace. From the dunes in Afghanistan to tropical surroundings of Mexico, my passion for music and performing will never die. Never forget the hard times, and keep your eye on the prize.
Fun Stuff about the Artist
---
Life on the Street
One of the craziest moments is when I was deployed to Afghanistan. Myself and another guy were doing a duo show for the troops and sure enough, we get a rocket attack. We hit the floor, and while im lying on my back, I start a guitar solo. Good thing I had a wireless system back then. Luckily, no one was hurt and continued on with the show.
Embarrassing Moment
Cant think of anything that sticks out right now, but I plan on having a lot more shows in the future so I will let you know.
My Instrument
My main guitar is a 07 Les Paul Standard with the 60's neck .... I like a thin neck. Close second is my 2013 Fender Stratocaster... maple neck...nice and bright. My acoustic is an off shore Fender cutaway... great tone at a great price.
List of other equipment:
Vocal Processor: TC Helicon Voice Live 3
Mixer: 1402 VLZ 4 Mackie
Microphone: Audio Technica AT2020
Webcam: Logitech Webcam HD Pro C920
USB audio device: Focusrite Scarlet 2i4 (2nd gen)
Midi Playback: Cakewalk Music Creator 5 (incl studio instruments plug in)
Scheduled Performances
---
Catch this artist perform at the listed times
Click on the
icon to add to your Outlook or *.ics compatible calendar.
Rocker Pins
---
Standing Ovation Pin
2 Awards
"Bravo, Bravo!"
Last Awarded:
Rock God Pin
1 Award
"I bow to your Godliness."
Last Awarded:
Jellypalooza 2017 Pin
1 Award
PEACE ☮ LOVE

♥

STREAMING
Last Awarded: