keys_tomato
|
Just call me Squint
---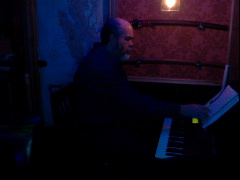 Tacoma, WA

United States of America
More About keys_tomato
---
I took piano lessons as a kid in the 70's from a traditional teacher and by Jr. High I was done with that and would rather play ball outside. When I got into my late 20's as a youth pastor I was in a place where I needed to learn to play something to lead music. I picked up piano from a teacher who taught chording techniques and learned to strum a guitar and plunk on a bass in the most rudimentary way. I continued playing for church music with keyboards or piano if one was available until we ended up moving to Tacoma.

My wife and I played a few times for our Kiwanis club featuring my daughter on the clarinet playing jazz standards. On our second gig Josh Of the North showed up and mentioned we should get together and jam. We did and Anita joined us on Bass and we played as "The Rodeo Clowns." We have evolved into "The C-Sides" and Play on SJ as a group from time to time.

About two years ago I started up lesson again in Jazz improvisation and enjoy playing on SJ for y'al
Fun Stuff about the Artist
---
Life on the Street
All of our wildness is broadcast on StreetJelly!
Embarrassing Moment
Got of an elevator in LA on the Lobby floor and Dee Snyder was waiting to get on and go to his room. I recognized him immediately and told him my daughter thought he was awesome and he let me take a selfie with him.
My Instrument
My first instrument was an Alesis Quadrasynth Plus Piano keyboard. I had to leave it at the church where I was a youth pastor at and it took me until a year ago to find another one to replace it with.
Rocker Pins
---
Jellypalooza 2015 Pin
1 Award
PEACE ☮ LOVE

♥

STREAMING
Last Awarded:
Jelly Jingle Pin
1 Award
Merry Christmas!
Last Awarded: