_Mike_
|
Tunes from the gaff
---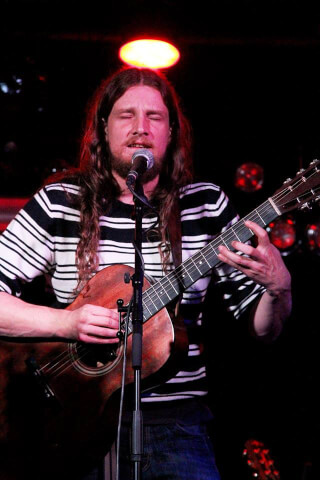 Leitrim

Ireland
More About _Mike_
---
Born in Belfast, I moved to Sligo at 16 discovering and engaging with the rich musical culture there (great talent in Sligo). After studying Film, I busked and gigged in Galway for years. I recently relocated to the depths of Leitrim. I'm hoping to write and record an original album here, and also prepare to get work on the cruise ships which I will apply for again next year - travel the world, hone my craft, and save money... what more could a man want? I'm into music ranging from Steely Dan and King Crimson, to Bert Jansch and Leonard Cohen.
Fun Stuff about the Artist
---
Life on the Street
Used to busk in Galway. It was great! It had a pedestrianised main street so it was an easy, comfortable place to play, never any real hassle.
Embarrassing Moment
Recently auditioned for work on a cruise ship. Was preparing for months for it trying to learn popular songs. Had a nervous attack and completely clammed up - couldn't think of anything to play when they requested certain types of song. My brain just went blank, complete nightmare!
My Instrument
Huss and Dalton TD-M, Adirondack (red spruce) top. My inanimate girlfriend, the 'Hussy'.

I have a cheap Yamaha I use for outdoors and altered tunings. It's stood up to the worst of abuse, love it.

I also have a Casio PX-3 e-piano I might crack out on streetjelly at some stage. Be warned.

NB/ Hussy's intonation is out needing new nut/saddle, so using my Yamaha at the moment.
Rocker Pins
---
Standing Ovation Pin
2 Awards
"Bravo, Bravo!"
Last Awarded:
Love Song Pin
1 Award
"You made my heart sing."
Last Awarded:
Rock God Pin
1 Award
"I bow to your Godliness."
Last Awarded: