WireNWood - Sings from the heart-or is it the pancreas?
"Same Goat, Different Spatula"
Replay of Live Show
"Same Goat, Different Spatula"
Start time:
End time:
Duration: 104 minutes
Please tip the artist during this Replay. Your appreciation will be seen by the performer.
- Hide someone from your chat. Hold down CTRL key (COMMAND for Mac) and click Tip button for quick 1 token tip.
WireNWood
|
Sings from the heart-or is it the pancreas?
---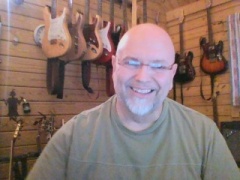 Tucson, AZ - between 2 cacti

United States of America
More About WireNWood
---
I started guitar at my Father's knee as a child. I suppose I was a professional guitarist then, as I was getting paid in the only currency that matters to a 5YO - Daddy's praise.
Twenty years after high school I went to college for "Classical" guitar. I still pump nylon daily but I also dig fingerstyle jazz solos, most anything from the 70s, Blues Rock, and pizza with everything.
For most of the 90s I was a guitarist for the U.S.Army Band. My year in Seoul with the Army was one of the best years of my life.
I'm a certifiable guitar geek. I build, modify, and repair guitars. I love guitar history & industry lore. I keep telling myself to perform about once a week here on StreetJelly but I don't seem to make it nearly that often. I also perform live in 3 local bands and in Second Life under this same name.
Please say "Hi" ... even if you think I suck. :)
Fun Stuff about the Artist
---
Life on the Street
One time I sat very still with my guitar as a brawl between 2 groups of bikers raged on all around me. The guitar & I both got through without a scratch. It was almost like a scene from F-Troop. :)
Embarrassing Moment
My most embarrassing moment was ... well ... childhood through 50 years of age. Maybe 55.
My Instrument
My first guitar was a Tiesco Spectrum 3 from K-Mart. :) I still remember my father choosing it for me, but I didn't know it by model name at the time. Dad played every electric guitar they had on display in 2 K-Marts and he even made the employee go in the store room and get second examples of a few models. I didn't expect him to choose the gorgeous blue top-of-the-line model. That guitar was my pride & joy.
Since then I've become a guitar freak. I have a room full of Strats and Teles of all sorts, but you'll probably see me on StreetJelly playing one of the following:
Taylor 110e
D'Angelico Brooklyn
Gibson J200
Martin AX1
2013 Fender CD140,
Seagull Explorer walnut
Xaviere dreadnaught (bubinga/cedar)
Xaviere dreadnaught (zebrawood/spruce)
Those 2 put much more expensive guitars to shame
or my 1977 Epiphone FT150 Bard, a gift from my Dad and maybe my most cherished possession.
Scheduled Performances
---
Catch this artist perform at the listed times
Click on the
icon to add to your Outlook or *.ics compatible calendar.
"I've Used This Show Title Before"
Rocker Pins
---
Standing Ovation Pin
29 Awards
"Bravo, Bravo!"
Last Awarded:
Love Song Pin
17 Awards
"You made my heart sing."
Last Awarded:
DJ Pin
5 Awards
"Thanks for playing my song."
Last Awarded:
Rock God Pin
5 Awards
"I bow to your Godliness."
Last Awarded:
Charity Pin
3 Awards
"I love and support your charity."
Last Awarded:
Jelly Jingle Pin
4 Awards
Merry Christmas!
Last Awarded:
Fan Appreciation Pin
3 Awards
"Your fans adore you."
Last Awarded: