WireNWood
|
Sings from the heart-or is it the pancreas?
---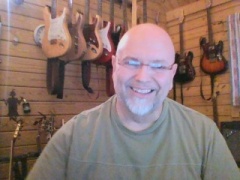 Tucson, AZ - between 2 cacti

United States of America
More About WireNWood
---
No backing tracks! Why? I get asked this. I thought "because I play an instrument" answered the question but many didn't understand. I'll try to explain it another way:

Performing with a backing track is like riding a roller coaster. Exciting at first - built to be lots of fun, but it will be the same. exact. ride. every. time. It's exciting the first few times then its old stuff - you know what to expect. It is not the least bit spontaneous or flexible.

Playing an instrument is more like driving a race car. I'm the driver and I'm in charge! There is more flexibility, more danger, and more personal power.

Scream, whisper or crash its under my control. I can stop when I WANT to, go someplace new in an old song, play it different than before, go around the block again or skip this block. Sing the chorus 2x at the end? OK!

Once the roller coaster starts I'm just a passenger. When I PLAY I am in control.

I like to drive! Don't you?
Fun Stuff about the Artist
---
Life on the Street
One time I sat very still with my guitar as a brawl between 2 groups of bikers raged on all around me. The guitar & I both got through without a scratch. It was almost like a scene from F-Troop. :)
Embarrassing Moment
My most embarrassing moment was ... well ... childhood through 50 years of age. Maybe 55.
My Instrument
My first guitar was a Tiesco Spectrum 3 from K-Mart. :) I still remember my father choosing it for me, but I didn't know it by model name at the time. Dad played every electric guitar they had on display in 2 K-Marts and he even made the employee go in the store room and get second examples of a few models. I didn't expect him to choose the gorgeous blue top-of-the-line model. That guitar was my pride & joy.
Since then I've become a guitar freak. I have a room full of Strats and Teles of all sorts, but you'll probably see me on StreetJelly playing one of the following:
Taylor 110e
D'Angelico Brooklyn
Gibson J200
Martin AX1
Xaviere dreadnaught (bubinga/cedar)
Xaviere dreadnaught (zebrawood/spruce)
Those 2 put much more expensive guitars to shame
Michael Kelly Forte Port
or my 1977 Epiphone FT150 Bard, a gift from my Dad and maybe my most cherished possession.
Rocker Pins
---
Standing Ovation Pin
34 Awards
"Bravo, Bravo!"
Last Awarded:
Love Song Pin
25 Awards
"You made my heart sing."
Last Awarded:
DJ Pin
5 Awards
"Thanks for playing my song."
Last Awarded:
Rock God Pin
8 Awards
"I bow to your Godliness."
Last Awarded:
Charity Pin
5 Awards
"I love and support your charity."
Last Awarded:
Jelly Jingle Pin
4 Awards
Merry Christmas!
Last Awarded:
Fan Appreciation Pin
3 Awards
"Your fans adore you."
Last Awarded: