No_Centz
|
Working Progress
---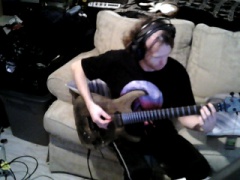 Cambridge Ontario

Canada
More About No_Centz
---
No Bio, why? Someone suggest to the musician to fill out an interesting profile. We all want to learn more about them.
Fun Stuff about the Artist
---
Life on the Street
On paper, I do not know my theory. I couldn't tell you the notes that I play, I just know how they sound. I guess you can say I know it without knowing what they are called. Always was too impatient to learn the scales, but I think I ended up learning them anyways just through constant repetition. It's something that I have look forward to eventually breaking into and opening up a whole new side of what can be done.
Embarrassing Moment
Probably my first youtube channel from years ago. Some pretty good videos in there lol
My Instrument
I own two different schecter guitars. A Revenger thats about 10 years old now, and recently I bought the apocalypse C1 FR S and I love it. I also own a hummingbird replica and a cheap bass. I also have a podcast mic for my vocals. And use various pedals from Grundge to Chorus to Wah and my boss guitar effects pedal. I am looking to expand in my pedals as well.

Eventually want to learn the drums and keyboard/piano.