MountainValley
|
Colorado Rockies Campfire born
---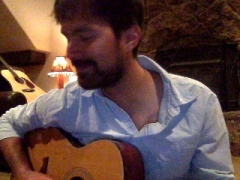 Colorado

United States of America
Genres
Instrumental
House Concert
More About MountainValley
---
We play in Colorado. We're in a band called Mountain Valley. We play in Rifle at 6pm every Thursday "Mountain Time" at "Brickhouse Pizzeria" There's no cover. We're both songwriters and solo artists, but we're playing together right now.

Victoria Trowell
John Hatanaka

I host a radio station on "Unmute" app for Iphone and android every Tuesday on the app at 7pm mountain time. Every week we bring on a new speaker that deals with arts and the environment so tune in. It's free:)

Check out: www.mountainvalley.co for upcoming dates

Contact: johnhatanaka64@gmail.com for booking


Thank You

MV
Fun Stuff about the Artist
---
Life on the Street
It was freshman year of college in CU Boulder and I was at Sewall Hall. Caroline Polechek was at the piano for three weeks straight and I knew she had a beautiful voice. We played music for that whole time with great friends that continue to inspire my world. That was my introduction to college in Colorado.

My travels led me to Australia and Cairns. I was on this idea of spinning the globe and seeing where I would land. I was playing some gigs in Australia and was able to play a small gig at "The Beaches" in New Castle. I found myself in Cairns randomly and was playing out on the boardwalk one day when I ran into an awesome Italian man who introduced me to lovely Canadians who I fell in love with. Eventually I went to an open mic session and recorded a song at the Apple Studio there and played under some palm trees and flowers with Emma Louise. I promised her I would tour with her someday, but went to Japan. Now I'm on the spiritual path and in Colorado with Oneness.
Embarrassing Moment
I don't think I have a most embarrassing moment, but I do break strings quite often and playing a song through by singing only can be an experience, especially when you are in front of 500 people at a Japanese International festival. Crazy!
My Instrument
I call my Martin Huck and I lately bought a Taylor Guitar in Tokyo. I had a good friend who had evacuated Fukushima with me after the Japan disaster and had followed me to Osaka. We drove all the way to Osaka and then I flew home to help fundraise in the U.S. Later after I had returned to Japan he had expressed interest in learning guitar and I found this guitar in a shop in Tachikawa or the Reggae district of Tokyo. There was something that struck me about the guitar and I knew it was being bought. I wanted my friend to start playing and so he kept it and I went back up to Yamagata. Later he started playing Ukulele and so I got it back. Sometimes I wish I was Mary Poppins because I don't know how to travel with guitars. It's quite hard. I need one of those small cases that fits a hat stand haha.
Rocker Pins
---
Standing Ovation Pin
3 Awards
"Bravo, Bravo!"
Last Awarded:
DJ Pin
1 Award
"Thanks for playing my song."
Last Awarded: