MishyKatz
|
What's your favorite kind of music??? LIVE!!
---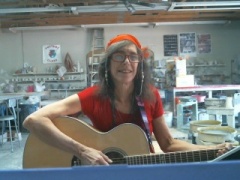 Phoenix, Arizona

United States of America
More About MishyKatz
---
Played piano and sung since I can remember. Loving learning guitar and ukulele these days and playing live for whoever will listen! My favorite genre is rock but love blues, country, oldies, standards, jazz, folk or whatever! I am a newbie songwriter, having so much fun with originals I am beginning to share with the world, quite a thrill for me. Getting a banjo next, haha.
Fun Stuff about the Artist
---
Embarrassing Moment
Practicing my vocal exercises early on a Sunday morning, when the police came knocking, a neighbor wondered why someone was "SCREAMING" over there! The cops were trying very hard NOT to laugh, I was cracking up, neighbor was NOT amused, haha!
My Instrument
I have nine guitars (a bit obsessive), some of them have names=
Takamine- Amelia (after Amelia Earhardt in a roundabout way)
Ibanez Zebra maple- Zebo
Ibanez Purple Zebra- Priscilla the Purple Persuasion
Fender Venus- Vee
Martinez Bamboo Traveler guitar- Roo

at one point I named my uke, I can't remember what it was now, but I think I will call it Lucy after my aunt :)
Rocker Pins
---
Standing Ovation Pin
4 Awards
"Bravo, Bravo!"
Last Awarded:
Rock God Pin
1 Award
"I bow to your Godliness."
Last Awarded: