Laidback
|
Laidback Listening
---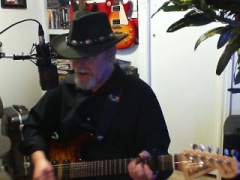 Truro,Nova Scotia

Canada
More About Laidback
---
I am a 60 year old airbrush artist ,retired now. there willl be a link to my artwork here if u would like a peek.I started playing Guitar at 13 and was taught the basics by one of my foster brothers.I then learned different genres from other friends and by listening to lots of music .If I liked a song I tried to learn it.
I have played in a few bands throughout my life always in the background as a guitarist ,drummer or keyboard player and sang harmonies.
I now just play by myself with a drum machine,guitar and a guitar synth or backtracks as I just cant seem to find anyone who likes to jam in this area. You can check me out also on Second Life as I play 1 hour shows there online almost everyday under the name laidbacklive. I also play live in Truro, Nova Scotia at the Revana Pizza Lounge on Pictou Rd every Sat. night. You may also check out my Youtube stuff here https://www.youtube.com/user/MrWeasle007 or my artists website here http://airbrush_art.tripod.com./.
Fun Stuff about the Artist
---
Life on the Street
I have never did any busking as I never play acoustic guitar and I have never had an electric guitar that I would allow to be outside just in case weather happened
My Instrument
My Favorite instrument is a single piece,flying V Gibson copy that I still have but have dropped on its face because of a crap guitar stand and broke the head stock 4 times.I repaired it every time but the last time was just one too many and it now just will not stay in tune,which sucks as it was one of the fastest and best sounding guitars I have ever owned .Someday if I ever win the lottery I will have a professional take a look and see if it can be repaired.lol I started collecting guitars this year .It was always something I wanted to do but just never had the time but now that I finally finsihed building our retirement home ,I decided it was time to start. So far I have 2 BC Rich guitars ( a Warbeast and a Bich) both 24 fret. I also have one Electric Samick Bass,my foster brother gave me. I have 2 Les paul copies,one SG copy,a Yamaha EG 112 which I customized to a HSH setup. also a Washburn X-series with 24 frets and a cheap Irin with a lightning bolt design on it
Rocker Pins
---
Standing Ovation Pin
20 Awards
"Bravo, Bravo!"
Last Awarded:
Love Song Pin
3 Awards
"You made my heart sing."
Last Awarded:
DJ Pin
2 Awards
"Thanks for playing my song."
Last Awarded:
Rock God Pin
1 Award
"I bow to your Godliness."
Last Awarded: