JeffreyBaldock
|
Fun, sincere, energy and hope!
---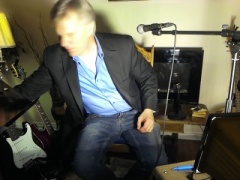 Timmins, Ontario

Canada
More About JeffreyBaldock
---
Jeffrey Baldock a folk pop singer and songwriter. He began his journey playing for audiences 30 years ago. Jeffrey works to bring music that touches and inspires hope for the hearts of people. Jeff lives in Timmins, Ontario where he works as a counsellor. He grew up in Sarnia, Ontario where he was influenced by the sounds of local musicians and his talented high school music teachers. He spent 20 years in Toronto where he worked as an actor on TV commercials, infomercials, film and regular guest appearances on national and local television.

Jeffrey is committed to encouraging people to achieve. His writing is fun, thoughtful and evokes hope. Jeffrey sees how music connects people together and enjoys playing for audiences, drawing them into fun and memorable experiences. Working as a counsellor and teacher with people young and old in downtown Toronto, he found music to be the bridge that would bring joy to people struggling through poverty and life.
Fun Stuff about the Artist
---
Life on the Street
I sang in a church where there was the presence of God. It was at a mission church in downtown Toronto that reached out to the poor and homeless. I played for over two hours and the people were dancing and singing. We had so much fun.
Embarrassing Moment
Played in front of 500 people and the guitar became unplugged from somewhere...no sound. The show had to go on. Never let them see you sweat! They heard my vocals and the guitar was for another event.
My Instrument
I am still playing my most favourite guitar even though I have worn holes through the top.
Rocker Pins
---
Standing Ovation Pin
1 Award
"Bravo, Bravo!"
Last Awarded:
Love Song Pin
1 Award
"You made my heart sing."
Last Awarded: