James Lynch Music
|
Singer/Songwriter New Life Into The Old
---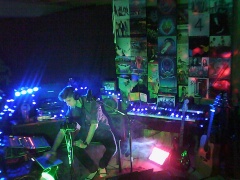 Calgary Alberta Canada

Canada
More About James Lynch Music
---
I'm James lynch. I'm 22 years old from Calgary Alberta, Canada. All I've ever wanted to be since I was a young boy was an accomplished musician, It has been my life's dream and always will be. My Father was a musician his whole life and growing up watching him be this Musical genius, I wanted to be just like him. So i got my first guitar at 7 and would play it all the time especially when dad was rehearsing. I was finally getting good enough to actually jam with my father and enjoy the music with him. a short time later my father cut off all his fingers on his left hand in an accident. Sense then he hasn't picked up a guitar or mic again.. and it has been the hardest part of my musical journey. All I ever wanted was to play music with my dad. I get my love for music from him and every time I preform it is for him. my dad has told me that watching me preform here on Streetjelly has brought back his love for music. getting to watch his son do what he Loved so much.
Thank You StreetJelly
Fun Stuff about the Artist
---
Life on the Street
I haven't had much experience preforming on the street but I once was singing with my acoustic by the river and did a few songs and turned around and there was about 15 people stopped listening to me. it was scary "because I have sever stage fright" but that aside it was also really cool to have people stop on their own accord to listen to me.
Embarrassing Moment
singing to a small coffee house I forgot the words to Hallelujah and stood in one spot for about 10 minutes then remembered.
My Instrument
My Fathers 1969 Fender Stratocaster. I was given this guitar from my father and i plan on being burred with it.
Rocker Pins
---
Standing Ovation Pin
18 Awards
"Bravo, Bravo!"
Last Awarded:
Love Song Pin
1 Award
"You made my heart sing."
Last Awarded:
DJ Pin
1 Award
"Thanks for playing my song."
Last Awarded:
Rock God Pin
1 Award
"I bow to your Godliness."
Last Awarded:
Charity Pin
1 Award
"I love and support your charity."
Last Awarded:
Starving Artist Pin
1 Award
"Here kid, buy yourself something."
Last Awarded:
Jelly Jingle Pin
2 Awards
Merry Christmas!
Last Awarded:
Fan Appreciation Pin
3 Awards
"Your fans adore you."
Last Awarded: