Grandpa Jim
|
Curmudgeon, in a nice way.
---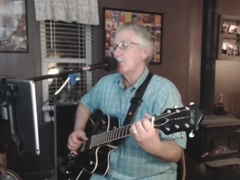 Zanesville, Ohio

United States of America
More About Grandpa Jim
---
Hi, I'm Jim Schaper.

I had been away from music for about ten years and was ok with that but my wife Jane suggested I get back in. I played country music in bars all through the eighties but couldn't see myself back in that life again. We explored other ways of expressing music and few were satisfying. Finally Jane suggested I start singing and do a solo act. I had never been a singer. We began to play nursing homes with Jane at the sound board. I set up her little table of electronics next to me on stage. Our banter came easily and caught on with audiences. I remember one lady asked Jane, "Is he your dad"? She of course replied "Yes". One old guy asked her if she was with anyone, she pointed at me and said; "him and he won't let me date". He tried again later. Jane is a tremendous amount of fun. She was talking to a salesman once about making me give up smoking weed when we got married. He asked what she gave up in return. She answered, "I gave up dating sailors!"
Fun Stuff about the Artist
---
Life on the Street
I once got a ticket for "Playing Banjo Without A Permit" by the music police at an outdoor festival.
Embarrassing Moment
Don't tell banjo jokes with a guitar on your lap. Lesson learned.
My Instrument
My first was a Gibson L48 I got in 1966. I still have it. There have been many since then but now I use three instruments, a Gretsch, a Taylor, and an Iida banjo.

I was sampling guitars with Paul at Guitar Center one day when my wife Jane pointed to one hanging up there a bit out of my price range (a Taylor 314CE). It was the most awesome sounding guitar I've ever played. Jane let me bring it home. Shopping with Jane is the best. Her intuition never fails.

I was in a music store one day buying strings and noticed a black Gretsch hanging on the wall. I checked it over and noodled with it. A couple days later went back to visit the guitar. On my third trip (just to see it again) I caved in and brought it home with me. It asked me to take it home. What else could I do?
Rocker Pins
---
Standing Ovation Pin
21 Awards
"Bravo, Bravo!"
Last Awarded:
Love Song Pin
2 Awards
"You made my heart sing."
Last Awarded:
DJ Pin
1 Award
"Thanks for playing my song."
Last Awarded:
Rock God Pin
1 Award
"I bow to your Godliness."
Last Awarded:
Wedding Singer Pin
1 Award
"You made this party not suck."
Last Awarded:
Charity Pin
1 Award
"I love and support your charity."
Last Awarded:
Jelly Jingle Pin
3 Awards
Merry Christmas!
Last Awarded:
Jellypalooza 2017 Pin
4 Awards
PEACE ☮ LOVE

♥

STREAMING
Last Awarded:
Fan Appreciation Pin
1 Award
"Your fans adore you."
Last Awarded: