FrankEdmiston
|
Acoustic Americana
---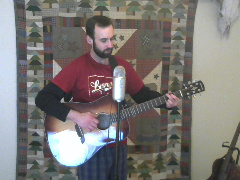 Wichita, KS

United States of America
More About FrankEdmiston
---
tI'm back home after a year on the road trucking. I'm ready to play with friends again and start getting my chops back. Thanks for listening and follow my music page on Facebook if you would like.
Fun Stuff about the Artist
---
Life on the Street
A busker let me play his guitar for a few minutes because I was the only one who gave him any money. I did my best to make him a few bucks but everyone just ignored us. Probably because he was drunk and he had a friend who was drunk and insulting everyone who walked by.

That's the extent of my playing on the street so far. I really was kind of disappointed that it didn't work out even though they were being jerks.
Embarrassing Moment
I can't really think of any honestly. I used to perform with an improv comedy group so I kind of learned to roll with the punches when performing and enjoy the unexpected.
My Instrument
My favorite instrument was an old Alvarez that I sold a couple of years ago because I went to work in Alaska and had to get rid of things in a hurry before the move. I'd come across it in a pawn shop and didn't realize how lucky I was to have found it until I came back to the lower 48 and tried to replace it. I definitely should have found a place to stash it instead of selling it in hindsight.
Rocker Pins
---
Standing Ovation Pin
7 Awards
"Bravo, Bravo!"
Last Awarded:
DJ Pin
1 Award
"Thanks for playing my song."
Last Awarded:
Jelly Jingle Pin
3 Awards
Merry Christmas!
Last Awarded: