Dave Barnett Music
|
Traditional Country
---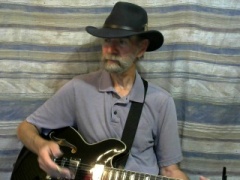 Rio Grande Valley, Texas

United States of America
More About Dave Barnett Music
---
Hi, I'm Dave. I'm originally from Los Angeles, but now I winter in the Rio Grande Valley of Texas and spend my summers traveling. I play the Traditional Country Music. The kind that tells a story and shares an emotion with the listener. I do it my way and don't want to sound exactly like the original. I hope you give it a listen and enjoy what you hear. Let me know what you think.
Fun Stuff about the Artist
---
My Instrument
I play guitar, but I use a thumb pick and one finger pick. I call it "double strumming."
Rocker Pins
---
Standing Ovation Pin
1 Award
"Bravo, Bravo!"
Last Awarded:
DJ Pin
1 Award
"Thanks for playing my song."
Last Awarded: