BoVine
|
Tombstone's Ukulele Crooner
---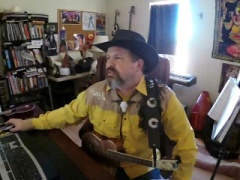 Tombstone, AZ

United States of America
More About BoVine
---
Howdy, Friend! Welcome to my Street Jelly Page! I hope you enjoy hearing me bang around on the ukulele for you! Be sure to say "Hi" when you're are in the neighborhood! :)

Grampa used to entertain us kiddos with his ukulele back in the early 1970's. I was spellbound by this kid-sized guitar! Many years later I stumbled upon a ukulele in a music shop and I leapt at the chance to have one of my very own! The rest, as they say, is history.

Musically, my first big musical influence was the Rockabilly and Golden Oldies I would hear on the TV show's like Happy Days, and Sha Na Na. Later I fell hard for Rock, Heavy Metal, and Punk. At some point I took a detour into Classic Country. The songs I write definitely reflect all of those influences as well as my own twisted sense of humor.

This year I decided to take my music to the streets of Tombstone and I have been having a blast playing out by the Visitor's Center.


aka. Dave Lasher, Go Cat Dave, Dave Kearney
Fun Stuff about the Artist
---
Life on the Street
I did have the experience recently of busking on the streets of Tombstone, AZ as people were choosing their spots for the annual Tombstone Rose Tree Parade. More and more people lined the road with their backs to me. When I heard the first marching band start playing in the distance, I knew that it was time for me to pack up and skidaddle!
Embarrassing Moment
Meeting Tori Amos before a show in the 1990's. I gave her a tiny statuette of the Tibetan Goddess, Tara. I said, you are probably familiar with her. To which she responded, "No! Tell me about her!" This was easier said than done as I was starstruck and tripping all over my tongue. Finally I just blurted out, "She's the Mother of all Buddhas!" Tori smiled and said, "Thank You, She will be good to have around!"
My Instrument
My current main instrument is a Recording King Resonator Ukulele. I call her, Stella.
Rocker Pins
---
Standing Ovation Pin
1 Award
"Bravo, Bravo!"
Last Awarded: