SKWANKULON
|
Happy Fun Music with GUITAR!
---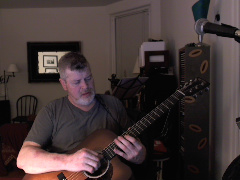 Nashville, Tennessee USA

United States of America
More About SKWANKULON
---
Welcome! My name is Drew. I like to play cover songs, 12-bar blues, original stuff. I enjoy songs that are fun to play. Songs that can be expressed in many different ways with a guitar. StreetJelly is the perfect outlet, the perfect on-demand venue for creatures like me.

Thanks for coming by!
Fun Stuff about the Artist
---
Life on the Street
1988, Summer in New Orleans, Louisiana: A friend and I were traveling across America. We had a couple hours to burn before a Neville Brothers show that night at Tipitina's. We wanted to play our guitars and jam. I think we were in the 9th Ward, lost...then we actually found an abandoned gas station garage with the power still on. I took my 75 watt Gorilla amp (it was a lunch box with a speaker!)put it on top of my friends Fender Twin.. oula! our "Wall-of-Sound" lol. We started with Aiko-Aiko, of course. Next thing you know, dozens of kids were Dancing In The Streets. I was hooked. To express a feeling, a notion that makes people dance and smile ... a great way to spend time for sure. All that and a full, frontal meta-physical epiphany from just two chords....that's when it all began. And once, I jammed Santana (BMW) with some gypsies in Tallinn Estonia outside their old castles downtown on Thin Street, while my Russian friend spent the day shopping for fresh cheeses.
Embarrassing Moment
1989 Newport, Rhode Island: I was a freshman in a college jazz band, getting credits for playing music. We played for a hi-society black-tie fund-raiser in an historic mansion on the Cliff Walk, These are among largest single mansions in USA, built before income and property taxes, when the Vanderbilts built 50,000 sq foot homes with gilded plumbing-as a second, vacation home (now they are all owned and maintained by historic society and university). Its enormous ball room was decked-out like it was 1899. It was for s a Catholic College and keg beer flowed freely. And before our show, the Dean of the College, a mysteriously old and powerful Master Nun walked straight up to me-I froze. Her Grace handed me lobster and cold beer, blessed me and floated away. I shit IN my pants. Later I caused a train-wreck during Theme To The Pink Panther. It Don't Mean A Thing If It Ain't Got That Swing into Take The A Train segue decent. My piss-yellow Gibson Sonnex Delux 180 was a trebly old mistress.
My Instrument
I like to play my Martin Dreadnought. It has Fishman gear and is fun plugged in. I think I'll never understand how its TONE knob works--strange.. I miss my 1973 Guild acoustic dreadnought. It was great, It was my first real guitar and stolen. Somewhere, some two-bit thief has a near perfect acoustic guitar. It was magical and made me sound better than I was. . You see, it had a slightly scalloped back, and no ribs, no bracing on the inside. so the sound chamber was wide open and "unencumbered". I have no clue, but this is what I told everyone why it sounded so clear, good, and full.