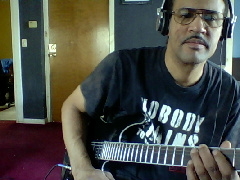 Schenectady, NY

United States of America
More About 3piece-me
---
I have been rocking on guitar and bass since 1980!!!!

My thing is 80's rock (The Cars, The Police, The Cure). New Wave, (The Clash, Living Color, The Knack, Joe Jackson, Elvis Costello, Gary Newman, The Fixx) Punk, and Alternative.
My all-time favorite bands present are: Foo Fighters, Rage Against the Machine, U2, Jane's Addiction, Red Hot Chili Peppers...
Fun Stuff about the Artist
---
My Instrument
I own a Cort signature Harim Bullock, an Electra- Working Man, and a Charvell - Desolation.
I play through a Vox Valvetronix VT50...or my Crate EL-10G
My Squier Jazz 4-string bass sees some action too.
Rocker Pins
---
Jellypalooza 2015 Pin
1 Award
PEACE ☮ LOVE

♥

STREAMING
Last Awarded: